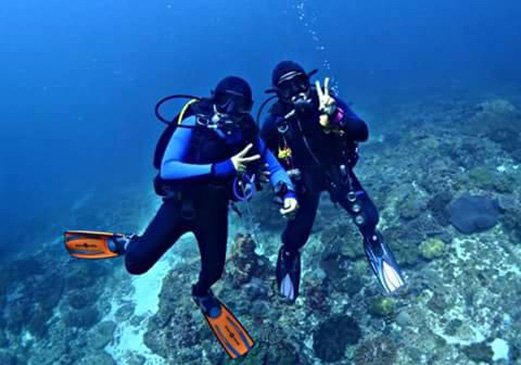 20 Feb

A day of diving with Joe's Gone Diving

You know the feeling, It's almost time for vacation. You have a few days left at work and then it is time for departure. Bali is the place of destination this year. Online you have found Joe's Gone Diving to go diving, the contact has been made and the second day after arrival your first day of diving is on the program. But what does such a day look like and what exactly can you expect? In this blog, I will take you with me on a day of diving with Joe's Gone Diving. A quarter past 6 the alarm goes off, yes you read that correctly, a quarter past 6 because at 7 o'clock you will be picked up by the bus at your hotel to be taken to the dive center. The bus driver is extremely friendly and helpful, a nice start of the day. Then you arrive at the dive center, the staff is already waiting for you and offer you a delicious cup of coffee (or something else). You fill in the forms and from there everything goes automatically. There is staff at the dive center who will put all your diving gear in a bag that belongs to you for the day. If you are not sure what size you have, there is of course time to fit equipment before putting the dive gear in the bag for a pleasant diving experience. After all this, it is time to go.

I went to Padang Bai, which is in the East of Bali. This is a place where many backpackers and tourists take the boat to Lombok, or the Nusa or Gili islands, but it's also a perfect place for divers who do their Open Water Course. The ride to Padang Bai is actually an experience for itself. The 2 ladies (Eby, dive instructor and Julliet, divemaster) have so many cool stories about diving around Bali. The stories about Whale Sharks, Manta Rays, Dolphins, and the Mola Mola (sunfish) are endless and the hour drive to Padang Bai flies by. Arriving at Padang Bai we make a stop at the restaurant where we will have lunch after diving. There is opportunity to go to the toilet, fill your unique Joe's Gone Diving water bottle and order the food and drinks for later. When that's all done, it's time for diving.

The staff has already unloaded all the equipment and you can start assembling your diving gear. If you don't know exactly how things have to be assembled, like I did, Feby and Julliet are there to help you and explain to you again how everything works. When everything is done, we went to the first dive site by boat. It was a boat trip for about 5 minutes. Arriving at the dive site Julliet gave an extensive briefing about the dive site itself, the hand signals and the rules for a safe dive.

The first dive site where I dived is called Bias Tugal, which means white beach. It's a dive site with lots of coral and a variety of different fish. Barracudas, cuttlefish, triggerfish, sea snails, lionfish, scorpionfish, pipefishes, turtles and many more were shown during the dive. It had been a while since I've been diving, so it was so impressive to see the underwater world again. During the first dive, I dived with Julliet. The calmness that she emits underwater gives you a very safe feeling. I had trouble with equalizing at the beginning of the dive, but she puts you at ease and makes sure you do not panic. While diving, Julliet often tapped her pointer on her diving tank (Pointer: metal stick that you tap against your dive tank so that the divers know that a fish is being designated or asked how much air you still have in your tank). It was very nice that she did this regularly. After reaching the point of 60 bar we went to 5 meters depth to do the usual 3-minute safety stop. A perfect moment to practice your buoyancy. After 3 minutes sitting like a Buddha at 5 meters, it was time to leave the water. The captain takes all your gear and the hour of chilling on the boat began.

At Joe's Gone Diving you always do 2 dives a day. This includes lunch, snacks between dives, towels to wash yourself, transport from your hotel to the diving school, transportation to the dive site and fruit when returning from diving.

The hour break was over, and we went to the next dive site at Padang Bai. After about 8 minutes by boat, we arrived at Blue Lagoon. An extensive briefing was done, this time by Eby. After that, it was time to dive again. At Blue Lagoon you jump into the water and you couldn't see the bottom yet. After descending to about 18 meters you end up on a sandy bottom. Here we saw, among other things, an eagle ray, triggerfish, pipehorse, which was very similar to a seahorse and a variation of many more species of fish. At Blue Lagoon there is a so-called cleaning station, here the Eagle Rays are cleaned by other fish. This makes it one of the reasons to take a dive at Blue Lagoon. After diving on the sandy bottom for a while, we went swimming to 'the wall'. This wall goes from almost the surface of the water to about 30 meters deep. This wall contains an incredible amount of coral where fish literally swim next to, above and below you. It is an experience that you do not want to miss.

Eby, with whom I participated this time, has already dived thousands of times and like Julliet, Eby is very calm under water. They both know exactly where you need to go and know all ins and outs about the dive site. After a dive of 55 minutes including safety stop, it was time to get out of the water and go back to the beach and start the lunch.

Because the lunch is ordered at an earlier stage, the food and drinks came quickly on the table. All stories are told about what everyone has seen underwater, jokes are made and there was a wonderful Balinese atmosphere, in which everyone was relaxed. At the restaurant, there are facilities to shower and change clothes.

On the way back, we were all satisfied and half of us fell asleep. Everyone has enjoyed the day. Upon arrival at the dive center, all your diving equipment is washed, even if you bring your own diving equipment. The fruit is ready at the table and the books with all fish species are taken out of the bookcase. Time to write down all fish species and further information in your logbook. After that having done, you will be dropped off at your hotel again. A day of diving with Joe's Gone Diving is over.

Padang Bai, as I wrote before, is perfect for beginning divers or advanced divers who have not been diving for a while. The dive sites are not too deep, there is little current, and the water is warm. For me the perfect place for the first 2 dives at Joe's Gone Diving.

Eby and Julliet, thanks for this experience. With your variety of professionalism and humor, you have really given me a great day.