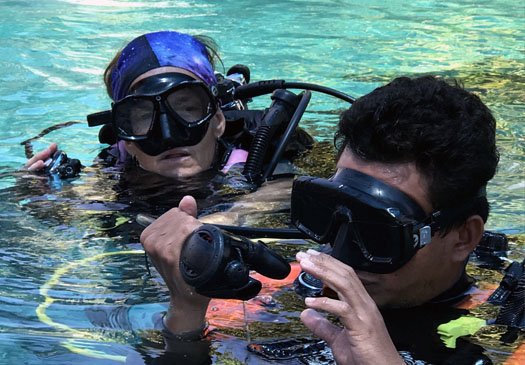 09 Dec

Adaptive scuba diving

PADI's approach to diver education has always been inclusive; anyone that meets course prerequisites is welcome to enroll. To further support this, PADI has developed two specialty courses, designed to encourage mindfulness and accommodation of a divers individual needs via the means of adaptive scuba diving techniques.

Diving with a buddy with limited mobility, visual impairment or disability can be both challenging and extremely rewarding, but for the diver you are assisting, scuba diving can be a life-changing experience that gives them a sense accomplishment that may not be as easily achieved on land, and the emotional and mental health boost this brings to the disabled diver can have huge benefits.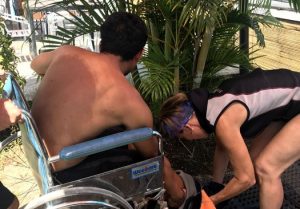 There are two specialties to choose from, depending on which one is most suitable for your experience. The Adaptive Support Diver course which is designed for anyone with the minimum certification level of Open Water, whereas the Adaptive Techniques course is for certified PADI professionals and builds on existing skills.
The requirements
Adaptive Support Diver Course
This interesting course is designed to give you insight into what is required to adequately support a disabled diver as a dive buddy.

Duration: 2 days, 2 dives
Who can join: Minimum certification needed: PADI Open Water Certification.
Minimum age: 15 years old. Trained and current for first aid and CPR within the previous two years or combine your PADI Adaptive Support Diver course with the EFR Course.
PADI Adaptive Techniques Specialty
This course enhances existing skills and prepares you for student-centered and prescriptive approaches when adapting techniques to meet an individual diver's needs.

Duration: 2 days, 2 dives
Who can join: PADI Divemasters or PADI Master Freedivers. Trained and current certification for first aid and CPR within the previous two years. If your EFR is not current anymore then you can combine your PADI Adaptive Technique course with an EFR refresher.
The benefits
Both specialties focus on developing skills for divers to assist and dive safely with a disabled buddy, as well as increasing your awareness of individual considerations in a way that focuses on the diver and not their disability.
The PADI Adaptive Support Diver course is one of the PADI Specialties that can count towards your Master Scuba Diver Rating. You can also count the course as an adventure dive as part of your PADI Advanced Open Water course.

Like all our courses, these courses are available in multiple languages. Book your Adaptive Support Diver or the Adaptive Techniques Specialty today!