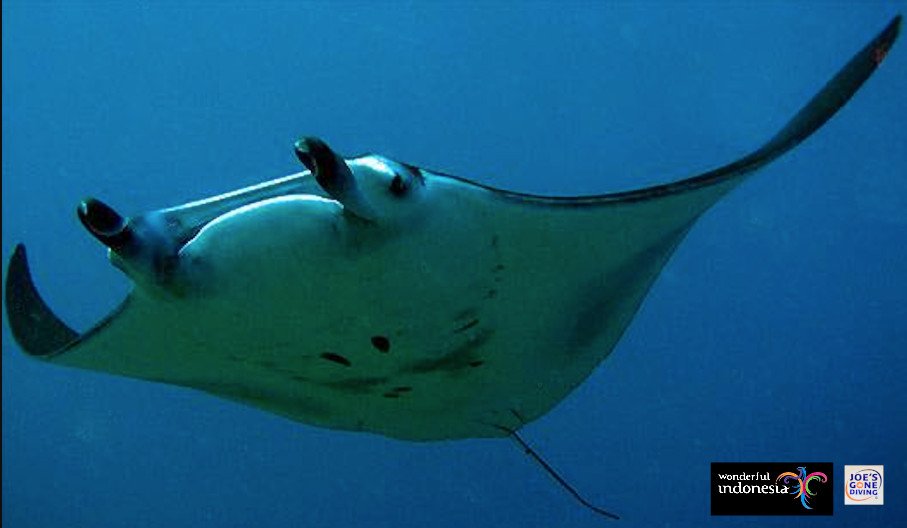 21 Mar

An indescribable day of diving on Nusa Penida, Bali

As a diver, you may be familiar with it, you sometimes have a day that everything goes well. The weather is good, the water is calm, the conditions are good, the visibility is excellent and all the expectations you had about the dive are coming true or are even exceeded. Today was such a day.

On this day there were 2 dives that were held in Nusa Penida. Manta Point and Crystal Bay were the dive sites where we dived. Manta Point, as the name suggests, is known for spotting Manta Rays. At Manta Point there is a so-called "cleaning station" where cleaning fishes clean the Manta Rays. The second dive was at Crystal Bay. This dive site is known for the clear water and together with Manta Point it is one of the most popular dive sites in Nusa Penida. Let's start from the beginning! As you may have read in previous blogs, you are expected to arrive at Joe's at a quarter to eight. You can choose to come by yourself, but you can also be picked up at your accommodation. Upon arrival the always happy diving instructors/masters are already waiting for you and there is time for a delicious cup of coffee, tea or something else. Your diving equipment is prepared in a bag with your name on it and is then loaded onto the bus. So, you don't have to do anything yourself. Relaxed isn't it?

Around 8 o'clock the bus left for the harbor of Sanur. This is a ride of approximately 10 minutes. Arriving in Sanur, a detailed explanation was given about what we could expect and what the day would look like. A boat trip of about an hour was waiting for us to Manta Point where we could go on a dive for up to an hour. Then a 20-minute boat trip to Crystal Bay where we could go diving for up to an hour and then return to Sanur for a well-deserved lunch at Joe's. The boat trip to Manta Point was wonderful. As can be read above, the conditions were excellent. We were not bothered by the waves and the morning sun was already warming up Bali and Nusa Penida. The sun did not feel very strong yet, but still you can get easily burned. Therefore, always put on sunscreen. During the boat trip to Nusa Penida, the excitement started already for us. Several groups of dolphins were spotted, and we even saw tuna jumping out of the water. Nusa Penida is also incredibly beautiful from the boat. The high cliffs, the vegetation on the cliffs and the blue sea around it make the view from the boat very beautiful. I think this was already a sneak peak of an indescribable day. Once arrived at Manta Point, the diving equipment was put on and the final instructions were given. It was time to get a closer look at the Manta Rays. And close it became!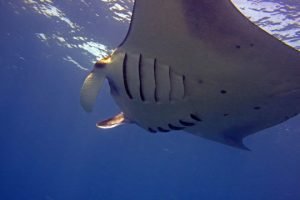 Manta Point is a dive site where you can dive with any diver level. The cleaning station is not deep. You should keep in mind that Manta Point is close to the coast, so underwater you will be moved back and forth through the swell of the water. You don't have to swim for almost the entire dive, the swell does all the work for you. It is a wonderful feeling, at night you still feel this when you lay in bed. I am unintentionally deviating from the story now, let's go back to the dive. Once we arrived at the bottom, we were immediately lucky. The first Manta Ray showed itself. What an incredibly elegant animal. It seems like it floats through the ocean. Her elegance is marvelous. With its 3-meter-long wings it moved through the ocean. Cleaning fishes cleaned her belly and the Manta Ray kept swimming around us. We were transported by the swell through the dive site. There were Manta Rays everywhere, sometimes even three at a time. At one point we had arrived at a place where an enormous Manta Ray appeared. She was four meters wide and had a very big belly. I later heard from Juliet (divemaster) that she was pregnant. After the Ray swam a few laps around us, she suddenly came straight at me. Before the dive, we were told that if a Manta Ray comes to swim towards you, you should not do anything. Just watch your buoyancy and let it come to you. The 4-meter-wide Manta Ray had now come as close at two meters away from me. She didn't take any steps to make a turn or to swim away. There she was suddenly, right above me, if I had reached out my arm, I could have touched her. For one moment I felt alone in the ocean with the Manta Ray. An indescribable feeling.
It was now time to do the 3-minute safety stop and then leave the water. It was quiet on the boat first. Everyone was impressed by what they had seen. The boat left for Crystal Bay. Slowly the thoughts were expressed in words. Slowly the awareness of what we had experienced came to our minds. The pure elegance of the underwater world had caught us.
After 20 minutes we arrived at Crystal Bay. Crystal Bay is located on the north side of Nusa Penida right in front of Nusa Lembongan. You see a beautiful white beach, palm trees, green forests and crystal-clear water. If you'd see it, you'd understand why this is one of the most popular dive sites in Nusa Penida. After having another 40 minutes break, eating some snacks and putting the equipment on again, it was time for the second dive.
The underwater world of Crystal Bay, as has been explained, is divided into two parts with a sandy bottom in between. We descended on this sandy bottom and then went to the right. We dived there for a while, got back to the sandy bottom and then further explored the left side.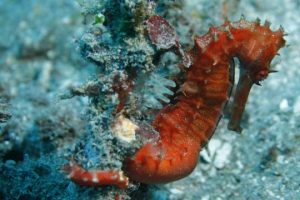 In the first minute we were down on the sandy bottom, we came across a wonderful marine animal. It is extremely rare to see this marine animal underwater and it was the first time for me. We saw a seahorse on the sandy bottom of Crystal Bay. You may think that if you have just seen a 4-meter-wide Manta Ray, what is so special about a seahorse, I can understand that. But a seahorse is so incredibly special. This is partly because you almost never see them and there it was, suddenly out of the blue. The animal was very relaxed, and it seemed that he liked the attention of the divers. We stare at this for about 5 minutes with eyes wide open before we continued the dive. Everything went well today. We saw: sea snakes, octopuses, titan trigger fish, nudi branches, moral eels, clownfishes, blue spotted stingrays and so on. Arriving on the left side of Crystal Bay it looked like we were swimming in an aquarium. There was a school with Moorish idol and fishes were swimming left and right, above and below us. It was breathtaking.
After seeing and experiencing all this, it was time to go up to the surface again. On the boat we were able to store all diving gear in our personal bags and it was time for the return trip to Sanur. Arriving in Sanur it was a short drive back to Joe's where lunch was waiting for us. Lunch here is great and for dessert you get refreshing pieces of watermelon. The logbooks were filled in and we said goodbye.
I write this blog a few days after I have experienced this indescribable day. If I'm honest, I still have a smile on my face when I write it. From a Manta Ray to a seahorse, from an octopus to a sea snake, from dolphins from the boat to Nemo deep in the ocean. Everything went well this day. I can really recommend everyone to do this dive trip to Nusa Penida once. It is the whole experience that makes it unforgettable. The boat trip, the island, the underwater world. What are you waiting for?