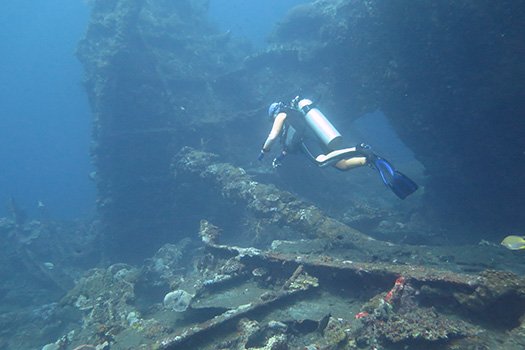 16 Apr

Diving at the USAT Liberty Wreck

A new week has arrived on the beautiful island of Bali. This week it's time to go diving for a day at the USAT Liberty Wreck, in Tulamben. In this blog I will take you through this day. I will tell you what to expect when you go diving in Tulamben and what the two dives look like. I am looking forward to it again, because yes, diving is one of the nicest things there is. Today is the day, the day of diving in Tulamben. We drank the first coffees and at 8 o'clock it was time to leave. The drive to Tulamben takes about two-and-a-half-hour, that sounds pretty long, but nature is beautiful on the waty to the place of destination and you see different types of landscapes.

You may know Bali from the beautiful beaches, sunsets, temples and rice fields, but Bali has so much more to offer. If you head north, the landscape changes and you come across mountains, volcanoes and lakes. You can even climb a volcano called the Batur. You will climb this volcano at night for a breathtaking sunrise in the early morning. On the Batur you also have a view over the mighty, active volcano the Agung, also the highest point of Bali. You cannot climb this volcano because of its active status, but it is excellent to see from the Batur. When you climb the Batur or head north, and drive through the mountains, please remember to always bring warm clothing, because it is very chilly in the mountains.

The climate on Bali is a tropical rainforest climate. It has two seasons. The rainy season (from October till April) and the dry season (from April till September). In the rainy season there is often (sometimes every day) rain and the humidity is a lot higher. So that means sweating! The rest of the year is dry season. That means very little rain! Because Bali has a tropical rain forest climate, the island is very green which makes the drive to Tulamben even more beautiful.

Once we arrived in Tulamben the gear was unloaded, the diving equipment put on and it was time for our first dive. I'm diving this day with Faldy, Joe's new divemaster. Juliet our current divemaster thought it was time for a new challenge and found a job in Raja Ampat. We would like to thank her again for all her work here at Joe's and wish her good luck with her new job in Raja Ampat.

Faldy has worked for years as a divemaster in Komodo, where he is born and raised, and comes across as a very social, professional divemaster. He told us everything on the bus about the USAT Liberty Wreck and gave us all the information about the day.

The USAT Liberty is an American transport ship that was torpedoed in 1942 by a Japanese submarine. The ship is approximately 125 meters long and 17 meters wide. In WW1 it served as an animal cargo ship with the name "USS Liberty". The ship was torpedoed in Lombok and sailed from Australia to the Philippines with rubber and railroad components. An attempt was made to tow the USAT Liberty to Singaraja, North Bali, but when the ship took up too much water, salvage workers were forced to strand the ship in Tulamben, East Bali in an attempt to haul the cargo to rescue.

The ship starts at a depth of approximately 2 meters and goes to a depth of 31 meters. All levels of divers can dive at this ship and this is also one of the places you go to when you do your PADI Open Water Course. Furthermore, this is also excellent for doing your PADI Wreck Specialty. At Tulamben you do not dive from a boat, but you do a shore dive. You already put your BCD on on the beach and carefully walk into the water with your fins under your arm. Once in the water you put your fins on and swim a little further into the ocean. You start the dive around a depth of approximately 3 meters and swim towards the ship. It is quite unrealistic to see a 125-meter ship out of the blue. The ship is really huge, and it seems there is no end.

The first dive lasted approximately 45 minutes. At Joe's you can dive for up to an hour if you have enough air of course. We came to a depth of 26 meters and saw lionfish, scorpionfish, giant sweetlips, triggerfish, nudi branch and many other fish. Spotting different types of fish is always very cool to do, but with this dive I had that feeling less. The ship is so impressive that I had my full focus on that. You can still see doors with their wheels on them, you can partially dive through the ship, you can still see the masts, you can dive above and beside the ship, it is amazing. I was happy that I could do a second dive there.

In Tulamben you have lunch in a very nice restaurant with a view over the ocean. I chose a Nasi deluxe and can really recommend it to everyone.

The second dive was now on the program and the equipment was put on again. We kept this dive around a depth of 18 meters so that we could dive a little longer. The giant sweetlips showed themselves again and so did many other types of fish. Nevertheless, all attention remained focused on the impressive wreck. After a dive of 58 minutes it was time to leave the ocean for our way back to Joe's.

After two wonderful dives, it was time to go home. The two-and-a-half-hour drive was on the program again and many of us slept the whole ride. I think we all needed a good sleep after such an impressive day.

Tulamben is one of the most popular dive sites in Bali and is recommended in many magazines. I fully agree with these magazines, because diving in Tulamben must be done once when you are in Bali. It is also a great place for night diving or diving very early in the morning.

Diving in Bali has so much diversity. From Nusa Penida and the Mantas, to Tulamben with the wreck. Come dive at Joe's, you will not regret it at all!!