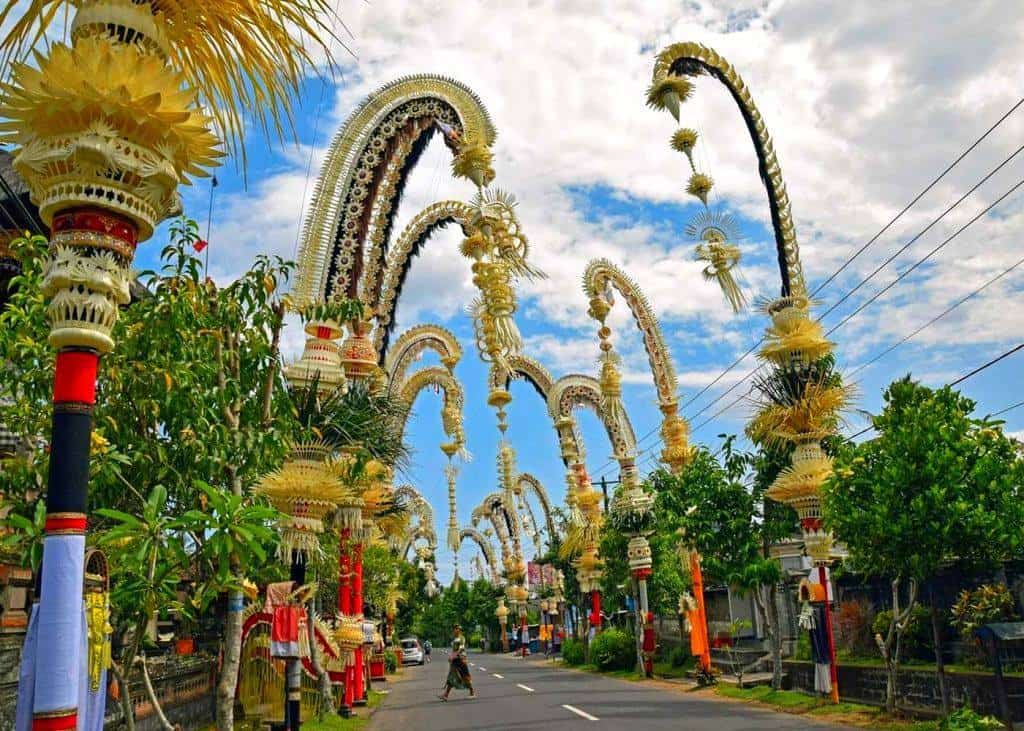 07 Mar

The Day of Silence, or in other words, Nyepi

It's the time of year again, the annually returning Hindu day, Nyepi. The day of the complete 'shutdown' of the Island Bali. A day where everything is closed and you can't leave your house, you don't have WIFI and all local warungs, restaurants and bars are closed. A day for ultimate peace, self-reflection and meditation.
The hidden meaning of Nyepi
In Hinduism, people believe in spirits. The idea behind Nyepi is to make the spirits believe that there is nothing and no one in Bali. When there is nothing or no one, it is not interesting for the spirits to settle here. By being quiet and not letting the light burn, according to faith, the spirits will fly over under the impression there is nothing to be found in Bali.
What do you need to know about Nyepi
It may sound a little scary, a day of a complete 'shutdown' of the island, but nowadays many travel agencies promote this special day. This is due to the fact that in the run up to this day there are different activities to watch and experience. It all starts with Mekiyis (Meki) or Melasti.
Meki or Melasti: This is two days before Nyepi. On this day temple statues are brought to the beach for a purification, which means cleansing. On many beaches around popular places such as Kuta, Seminyak, Canggu and Sanur you can see this ritual as a tourist.
Ogoh-Ogoh (devil's spirit): The evening before Nyepi. This evening is dedicated to calling up the spirits and then allowing them to drift away. There will be sacrificial ceremonies on this evening in which the Balinese are parading over the streets with large homemade paper-marche dolls. Each district (Banjar) makes its own doll and performs a show for a jury. The jury decide which Banjar will be the big winner for that year. The dolls represent the evil spirits that have to be driven away. You will hear a lot of noise on this day, because people think that you drive away the spirits with a lot of sound. Later in the evening, the Balinese will go drinking, dancing and partying. A nice fun fact: From this year onwards, the dolls will only be made of paper and no longer partially or entirely of polystyrene (plastic), this to prevent the pollution of Bali.
Nyepi: The day of rest. You have already read a little about it, but these are the four most important things that you should not do on this day:
– No light on
– No work on this day
– No entertainment
– You cannot go outside
On this day, the tourists are requested to respect this holy day. As a tourist you are free to do what you want, as long as it happens at the hotel. You cannot do much more, because apart from the hospitality industry, the beaches are closed and even the airport is closed on this day. (This is the only international airport that completely closes for a religious day.) For medical emergencies the hospital is open, and care is provided when necessary.
Ngembak Geni: The day after Nyepi. On this day the daily tasks and activities are resumed. However, the Balinese will perform religious rituals and ask forgiveness for the sins that have been done so they can enter the new year with a clean slate.
As a tourist it is very nice to take a look around at the days before Nyepi. In every city or village there are festivities and there is much to see. It is an experience you will not soon forget.
Joe's Gone Diving and Nyepi
On the day of the silence, which falls on Sunday, March 14 this year, Joe's Gone Diving will be closed. The days before and Monday March 15, we are open, and we look forward to welcoming you in our dive center.